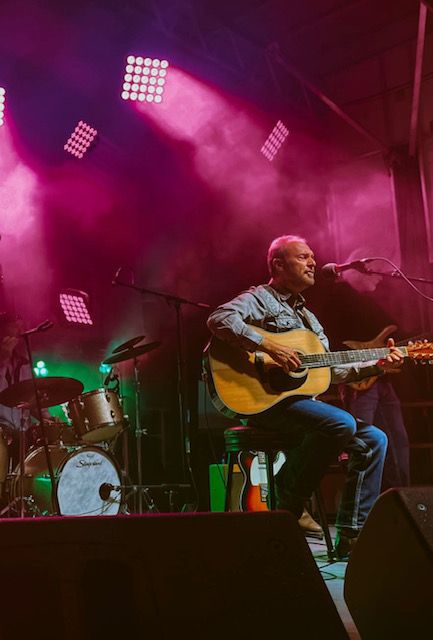 Originally from the Northeast, born & raised in CT, Mark got his start in Acoustic music while attending the University of Connecticut where he majored in Psychology & minored in Music.
Upon graduation, Mark toured New England for several years with an Acoustic trio called "On The Road Again", culminating in a six week Tour in the U.S. Virgin Islands. He returned home to play in several Rock bands until he discovered the new Country styles of the 80's, moved to Nashville as an aspiring Country Music Artist and began to focus on his Songwriting ability.
In 2019, Mark decided to form an all Original group, the Mark Anthony Ensemble and in 2021 signed with Iron Gate Records in Nashville as a Recording Artist. Mark is a BMI Singer/Songwriter, Actor, and has appeared on Discovery Television.
Mark Anthony Ensemble – Band Members
Click for Biographies…
Bryan Walsh – Bass Guitar

Originally from California, Bryan Walsh was born in Orange County but his Family moved to Rochester, NY at an early age. At the age of 9, he began studying the piano under the tutelage of a Professor from the Eastman School of Music which turned out to be the best gift from his parents. in junior high he learned to play the trombone and played it all through high school in a concert band & through college as well, playing in a jazz big band. While in high school he began to teach himself bass guitar and it has remained his primary instrument to date. Bryan has played with numerous bands and Artists over the years including performances with several well known Rock musicians.
Paul Presson – Drums & Percussion

Paul Presson is a long time friend of Mark's and became an instant hit with the Band after filling in for a gig on drums & percussion. He is an accomplished musician, a graduate of the Berklee School of Music in Boston, MA and has lent his talents to a wide range of bands from Jazz, Rock, Blues and R&B. For many years, Paul was part of the very popular "Chill Band" based in Franklin and adds a new level of rhythmic and percussive flavors to the Ensemble.
Peter Kapp – Lead Guitar

Originally from South Africa, Peter Kapp started playing gigs at the age of 5 on the drums. He then moved to the organ where he taught himself to play keyboards & bass using the pedals. He won a regional organ competition at age 13 and quickly transitioned to playing guitar on National TV competitions. He spent many years as a drummer/bassist/guitarist in the South African Police Band recording multiple albums with legendary South African artists. He moved to the U.S. in 1998 and joined John Records Landecker and The Legends on bass and background vocals. Peter has shared the stage with numerous bands including Jim Peterik from Ides of March, Jan & Dean, and Paul Revere and the Raiders. He has owned a recording studio and also provided session services on multiple instruments, creating original compositions and harmonies. While Peter is a multi-instrumentalist, guitar is his first love with a passion for harmonies as a close second.